How to have a stress-free Christmas dinner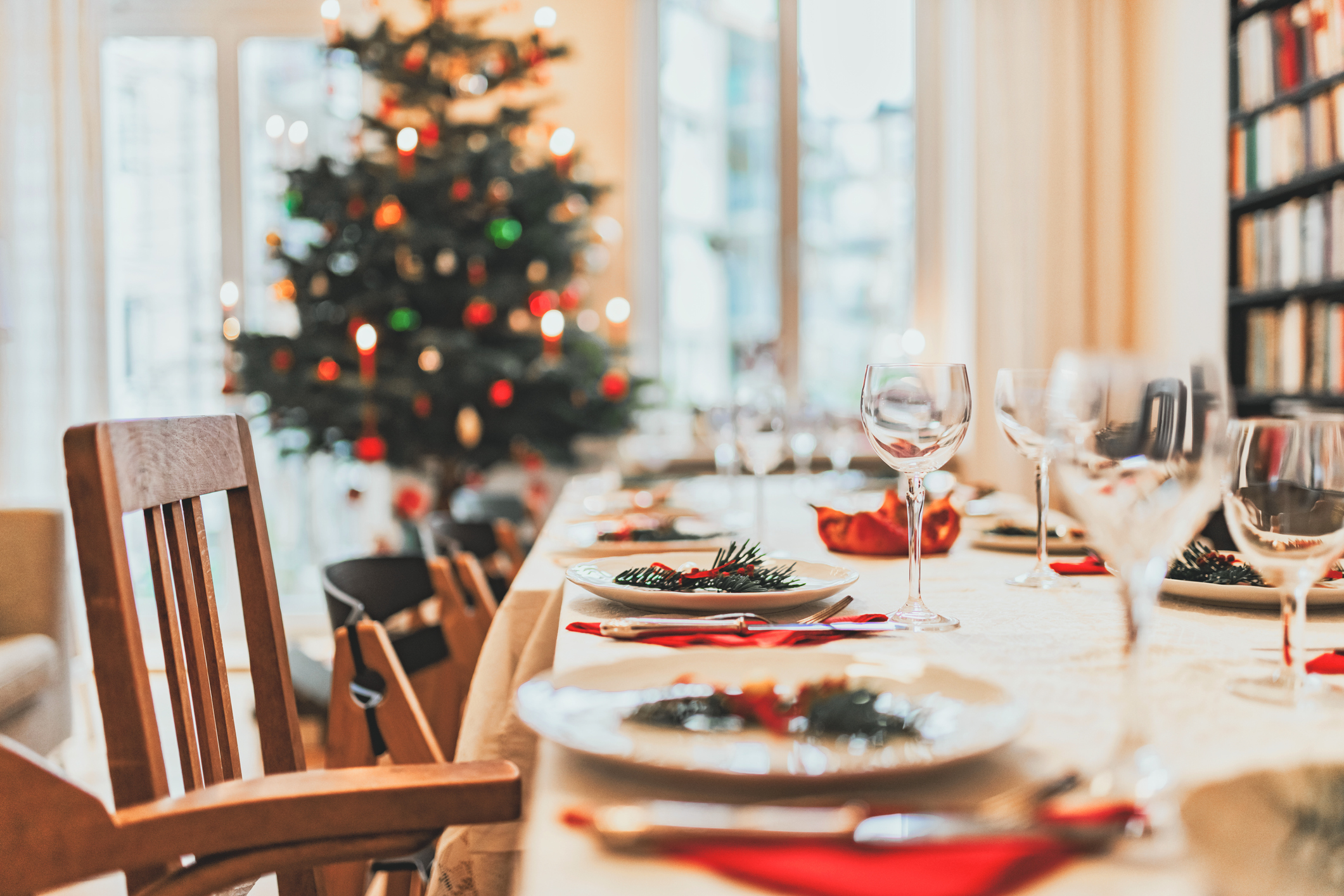 The key to a more relaxed Christmas Day lies in the planning. Planning Christmas food well in advance not only reduces the likelihood of last-minute panic-buying but enhances the eating experience when the time finally comes. From an hour at the kitchen table surrounded by cookery books to festive chitchat with the farm- shop owner, from floury faces and spoon-licking fun with little ones to the satisfaction of a freezer bursting with nourishing meals, there is much to enjoy in the process.
Here are my twelve tips for how to plan ahead and make festive food much less stressful:
Map out every event that you plan to cater for, either alone or with other people. Decide on a menu for each, remembering to include breakfast, lunch and snacks if guests will be staying for several days. Ask your guests about any special dietary requirements and preferences well in advance. If it makes you feel anxious thinking about it, find ways to simplify your plans or rope in some moral support.
Think about the cooking utensils and serveware you will need to cater for your guests. If you don't have enough of everything, and can't borrow it, the Black Friday sales at the end of November are a good opportunity to buy anything you need at a bargain price.
If you find cooking everything a bit too stressful, ask yourself the following questions:
Which specific item or meal do you most associate with Christmas? Can you make it yourself with love, or buy a quality version of it? If this seems feasible, consider letting go of more peripheral fare. This will save you time, energy and money.
Will your guests help? If you ask them to bring something, specify what you need, so you know what to expect and they don't have to guess.
Can you make anything ahead of time and freeze or store it? Schedule time in your diary to do this. Perhaps set aside a whole Sunday for cooking main meals and/or a couple of evenings for baking and preserving.
Could some of your homemade products make good gifts?
Write a complete list of the ingredients you need, check your cupboards to see what you already have, then do your shopping. When compiling your list, remember to include ingredients for healthy breakfasts, such as frozen fruit for smoothies, to give everyone a good start to the day.
To avoid the supermarket crowds, either book an online delivery or shop locally. If possible, talk to the traders. Buying direct from growers, bakers or independent shopkeepers makes it so much more special when you come to eat their produce.
If you buy too much, or can spare some, consider donating some of it to the local food bank.
If money is scarce, encourage your guests to contribute something, such as wine or dessert. If you have a large family, consider organising a Christmas dinner kitty, to be used by whoever is hosting. Plant-based dishes tend to be cheaper than meat or fish, so even if you do a roast, be extra-generous with sides to fill plates. It will still feel like a special feast if you take extra care with the table settings and lighting, and radiate festive spirit.
Make a simple week-by-week plan for December, and a day-by-day plan for the week before Christmas. Include ideas for table decorations if these will need to be made in advance. If your schedule seems overwhelming, reduce the number of guests at your main gathering, make it more casual, invite people to stay for fewer days (or not at all), simplify your menu or plan to eat out on occasion.
Batch cook and freeze casual, nutritious meals, such as warming stews, for eating between Christmas and New Year.
When cooking, put on your favourite apron and some festive music, rope in some help if possible, and try to enjoy it. Make a simple timeline counting backwards from when you want to serve up, and set alarms on your phone for when each component needs to come out of the oven. If you plan it correctly, this can be a mindful experience as you melt into the smells, sights, textures, sounds and, of course, tastes of your bubbling dishes.
Consider setting up festive party stations, so your guests can help themselves to drinks and snacks before the main event. Serve the meal itself in large bowls or on platters, or straight from the oven so people can help you plate up.
Finally, try to relax. Remember, your guests are all grateful for the effort you're making and they want to spend time with you.
This is a book about Christmas. But it's also a book about belonging, connection, self-care, joy and ordinary magic.

Calm Christmas and a Happy New Year offers inspiration for a new kind of holiday season - one where you radiate calm and cultivate delight. Spanning late November to early January, Calm Christmas embraces the festive build-up, the celebrations and the turn of the year in a holistic, nurturing way. Beth Kempton will whisk you away from the frenetic energy of the high street and invite you to come sit awhile by the fire, pausing to explore what a more mindful festive season could mean for you.

Full of personal stories, tips and advice for slowing down, staying calm and connecting with others, it offers a welcome retreat from the pressure to create 'the perfect Christmas'.

At its heart Calm Christmas is about a book about wellbeing in winter, which will encourage you to use this time of natural hibernation to germinate new dreams and nurture a beautiful life in the year ahead. Instead of entering January exhausted, further in debt, and already regretting broken resolutions, you will begin the New Year with precious memories, feeling rested, rejuvenated and inspired.

This atmospheric book will lead you through the darkness of winter, back to the enchantment of an authentic and meaningful Christmas and New Year.