Six Easy Cocktail Recipes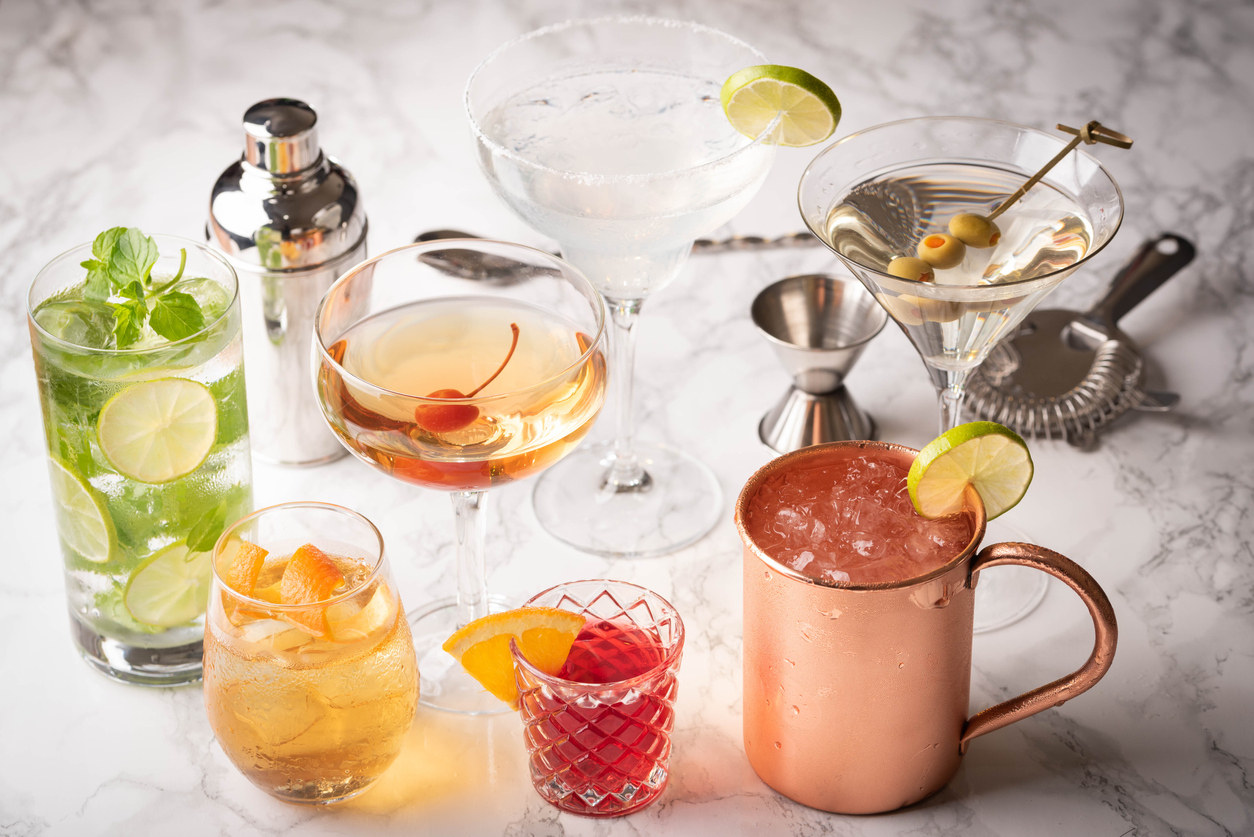 From the thrill of a chilled Martini to the short, sharp joy of a Negroni, few things add instant glamour to proceedings quite like a perfectly put together cocktail.
However, as appealing as the idea of sipping on one might be, when it comes to actually making them in the first place? Not so much. For a start there's the faff of finding the perfect recipe and having the right ingredients and equipment needed to make it. But add a dash of insider know-how and making cocktails is really not as tricky, or expensive, as you might think.
Forget splashing out on the latest must-have boutique bottle because making your own homemade infused spirits with simple recipes couldn't be easier. As for cocktail-making equipment, an empty jam jar makes an excellent makeshift cocktail shaker and a chopstick will do when it comes to stirring ingredients in the glass before serving. Here are a few to get you going . . .
A Classic Martini
Perhaps the most iconic cocktail of them, it's surprisingly simple when it comes to ingredients – gin and vermouth. As soon as you decide you want to make one, put your cocktail glass in the freezer.
Pick your gin and dry white vermouth, grab a shaker and fill it with a good handful of ice. The more gin to vermouth, the drier your Martini. I like mine on the dry side so use 50ml gin to 15ml vermouth but simply adjust the ratio according to taste.
Add the gin and vermouth to the shaker and give it a good stir for about 30 seconds. You can of course shake if you prefer but do so, with meaning, for at least 15 seconds.
Strain it into the chilled glass and add a strip of lemon peel, twisting it over the glass to release the oils before dropping it in. Serve immediately.
Mix it up with homemade Limoncello
Turn a Martini into a Lemon Martini by switching the gin for vodka and adding some homemade limoncello. It's simple to make and absolutely delicious to drink, either on it's own or mixed.
To make it, peel three ripe unwaxed lemons and put the peel into a clean jar. Pour over 500ml of standard vodka, seal it and leave for a week in a cool, dark place. Give it a gentle shake every day if you remember.
After a week, put 300g of sugar in a pan and add 300ml of boiling water, stirring it gently until the sugar dissolves. Leave it to cool before adding it to the jar of vodka and lemon peel and leave it for another week. Again, give it a daily shake if you can.
When ready, strain the liquid through a sieve into a jug and pour it back into the jar or into a clean bottle (or smaller bottles: this makes for great presents). Seal and store in the fridge.
To make the Lemon Martini, pop the glass in the freezer for five minutes whilst you make the drink. Put a handful of ice in the shaker/jar and pour in 50ml vodka, 15ml of fresh lime juice and 25ml of limoncello. Give it a good stir or shake and strain into the chilled glass, topping it off with a twist of fresh lemon peel.
The Negroni
A word of warning about this classic Italian aperitif: serve this chilled in small glasses because it's really strong. To make it, fill a small tumbler with plenty of ice and pour in 40ml gin, 40ml Campari and 40ml sweet red vermouth. Give it a quick stir and add a thick twist of orange peel. Best to sit down to drink it.
Dark & Stormy
This cocktail brings together the suitably brooding molasses and raisin flavours of dark rum with ginger and a dash of lime. To make one, put a handful of ice in a tall glass or tumbler. Add 50ml dark rum and 25ml fresh lime juice, give it a stir and top up the glass with chilled ginger beer. Add a wedge of lime, giving it a squeeze over the glass before dropping it into the glass.
Change it up with homemade Pineapple Rum
The tropical flavours of white rum and pineapple make up one of the most kitsch cocktails of them all, the Pina Colada. But homemade pineapple rum is a simple way to bring these flavours together and it makes a great ingredient for a summery twist on the Dark & Stormy.
To make it, cube a small pineapple (about 300g) and put the pineapple chunks into a clean jar. Pour over 20g sugar (optional but I find it rounds out the end flavour) and add 500ml of white rum.
If you have some to hand, peel a thumb of fresh ginger and chuck it in with the rest of the ingredients. Seal and leave overnight or for up to 24 hours. When ready, strain the liquid into a jug and pour it back into the jar of into a clean bottle. Seal and store in the fridge.
To make a Light & Stormy fill a tall glass or tumbler with ice, add 50ml of pineapple rum and top it up with ginger ale. Or try it with soda water instead of ginger ale and add a sprig of mint to serve.
Almost 75
This is non-alcoholic version of one of my favourite cocktails, the French 75. Obviously I prefer it with champagne and cognac but this is refreshingly good and really simple to make when you need a break from the booze.
Just put the juice of half a lemon in a chilled flute, add a dash of sugar syrup (to make this put half sugar, half warm water in a jam jar and shake it until the sugar dissolves) and top it up with 200ml of bitter lemon. Serve immediately.
Helen McGinn's new book, Homemade Cocktails, is out now (£10.99, Robinson). For more drinks inspiration visit Helen's website www.knackeredmotherswineclub.com. Follow her on instagram @knackeredmother
'This book is dangerous: I had a Boulevardier in my hand five minutes after opening it'
Victoria Moore, Wine correspondent, the Daily Telegraph and BBC Good Food

'Cocktail making demystified at last! What a useful book'
India Knight

The cocktail scene has exploded in recent years and the bars are booming. From the classics to modern-day twists with infused spirits and tonics, vermouths and bitters, ordering a cocktail at the bar has never been so much fun. Which is great news for some but if, like the author, you really don't get out much, then it can feel like you're missing out on all the fun. Until now.

Helen McGinn's Homemade Cocktails is full of recipes, hints and tips to help you re-write your at-home cocktail repertoire. From classics to the latest in cocktail fashions, this book helps you raise the bar whether it's to impress your guests or simply treat yourself. You'll find ways to use up what's in those bottles lurking at the back of the cupboard and knock up a fabulous cocktail in no time, adding instant glamour to any occasion.