How to make the ultimate Christmas cake
I'm not sure about you, but with all the overindulging we do over Christmas, we're always left with Christmas cake going into the New Year. This recipe makes the perfect amount for two smaller cakes – one for you and one for a friend. Spread the love this Christmas.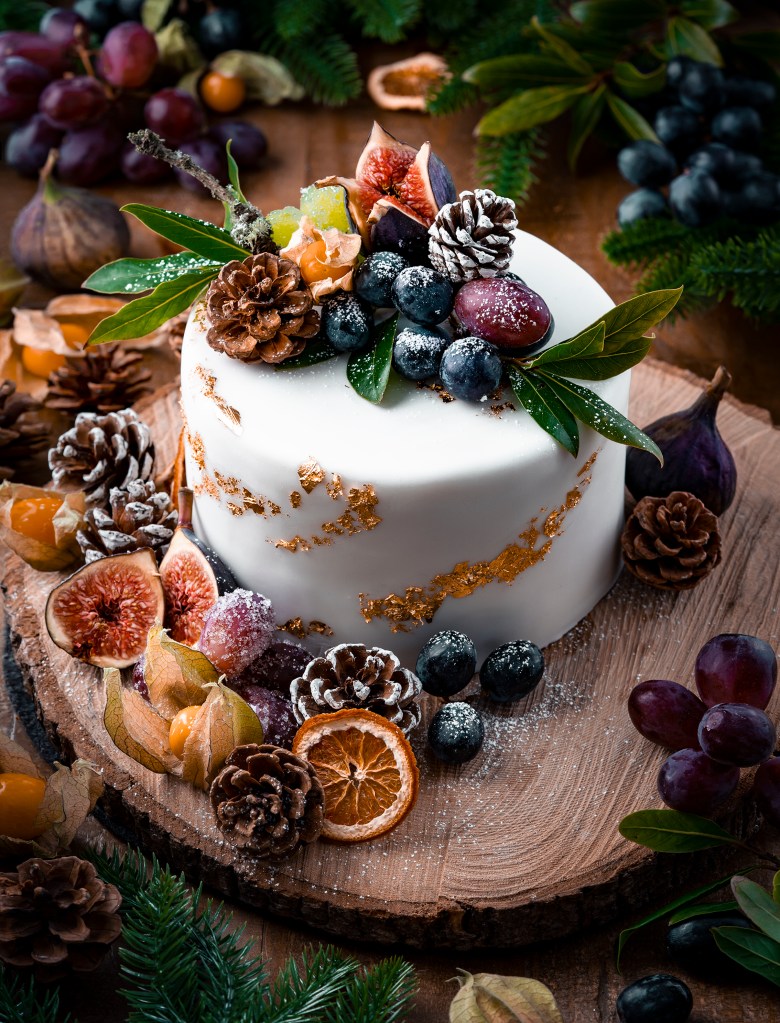 You will need 2 x 15cm/6in round loose-bottomed cake tins
Each cake serves 12
Ingredient
s
For the cakes
300g/10½ oz sultanas
150g/5oz currants
150g/5oz raisins
100g/3½ oz dried apricots
200g/7oz cranberries
50g/1½ oz glacé cherries
50g/1½ oz mixed peel
Zest and juice of 1 orange
170ml/6fl oz sherry
250g/9oz unsalted butter,
plus extra for greasing
250g/9oz soft brown sugar
1½  tsp vanilla bean paste
4 large eggs
220g/7½ oz plain flour
1½ tsp ground mixed spice
120g/4oz nuts, I use a mix of pecans,
almonds and Brazil nuts
To decorate
Apricot jam
Pack of ready-to-roll marzipan
Pack of ready-to-roll white icing
Icing sugar, to dust
Method
Chop all the larger dried fruit and add to a bowl with the smaller fruits. Add the orange juice, zest and alcohol, then mix well and cover with a clean tea towel overnight to plump up.
The following day, grease and double line the cake tins, and wrap the outside of the tins with newspaper secured with string.
Preheat the ovento 160°C (140°C fan oven) Gas 3.
Beat the butter, sugar, vanilla and eggs together, then add the flour and mixed spice and thoroughly mix. Add the fruits and any liquid from the bowl, mix in the chopped nuts then divide equally between the two tins. Level the tops with a spatula and bake for 1½ hours.
Reduce the heat to 140°C (120°C fan oven) Gas 1 and bake for a further 1–1¼ hours until baked, or check with a skewer.
Leave the cakes to cool completely in the tins, then wrap in foil and store in the cupboard until ready to decorate. If you want to feed your cake in the lead-up to Christmas, unwrap the cake, poke holes all over the top with a cocktail stick and drizzle with your chosen alcohol.
I decorate my Christmas cakes a week before eating, by warming a little apricot jam and brushing a thin layer on the top and sides of the cake. Roll out the marzipan on a worktop lightly dusted with icing sugar and, using the rolling pin to help, lift the marzipan onto the cake, smoothing the top and sides. Repeat with the rolled fondant icing and decorate the cake as you wish.
Tip
If the tops of the cakes are browning too quickly, cover them loosely with foil.
Seasonal bakes and tips on growing your own produce by former The Great British Bake Off contestant, Michelle Evans-Fecci

Former Bake Off contestant Michelle was known on the show for her flavoursome, colourful bakes and for championing seasonal, locally sourced and homegrown produce. Whether it's a simple loaf for breakfast or a striking showstopper cake for a celebration, she loves using seasonal food to create tasty recipes for the whole family to enjoy.

The Seasonal Baker is a collection of recipes straight from Michelle's kitchen to yours - from quick-and-easy bakes to others that are a bit more challenging - with an emphasis on special events such as Easter, Halloween and Christmas. Inside you will find delicious, vibrant recipes such as:
- Hot Cross Bun Bread and Butter Pudding
- Truffle, Rosemary and Garlic Focaccia
- Smokey Pulled Pork Sausage Rolls
- Butternut Squash, Feta, Maple and Pecan Cups
- Vanilla, Rhubarb and Raspberry Celebration Cake

Michelle grew up on a farm and learned from a young age how to grow vegetables and the basics of cooking and baking. She now lives in the beautiful seaside town of Tenby in Pembrokeshire with her husband Ben, their teenage son Alfie, little whippet Rosie, and two cheeky hens. As a family they love to be out in the garden where they grow a lot of the fruit, vegetables and herbs that Michelle uses in her everyday cooking. The book shows just how easy and rewarding it is to grow your own produce.

As well as delicious bakes for all abilities, The Seasonal Baker contains hints and tips on ways of being thrifty with food. There is something for everyone, from what to plant, when to plant it and when to harvest - whether you have access to a plant pot, window box, balcony, raised bed or garden veg patch with intuitive, creative photos to help.