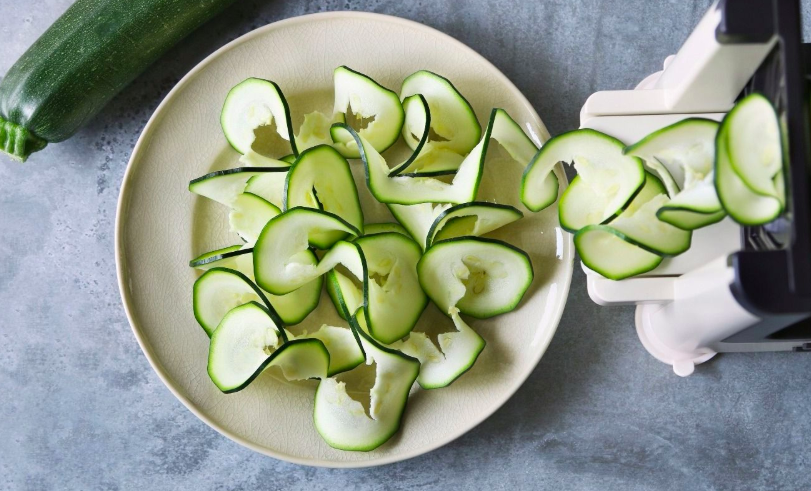 Spiralizing
This is the trendy new way to turn fruit and vegetables into delicious, nutritious alternatives to pasta, rice and noodles. With lots of recipes that add a variety of different textures, colour and goodness to mealtimes, it means people can enjoy a healthy, balanced diet and increase their five a day with ease. Spiralized food is also a great way to help towards weight loss. With so many people being aware of the amount of processed white flour they consume, a spiralizer is a great alternative – although it is important to include a small amount of carbohydrates into your diet to allow for a slow-release of energy!
How to spiralize a pepper
When spiralizing peppers, there'll be a few seeds and the core sliced as well, so always pick those out. Rinse the peppers to remove the last of the seeds. A ring of unspiralized pepper around the stalk end will be left, but you can always slice or chop this and add to your dish if you wish.
How to spiralize 
– First, choose your model. There are lots of different types of spiralizers, including side-winding machines, top-winding machines and little hand-held models. Side-winders collect all the food in front of the machine so a large amount can be made without having to stop, whereas a hand-held is more like a potato peeler and can take more time and effort.
– Take care when using any spiralizer, as the razor blades and holder spikes are extremely sharp.
– Use firm fruit and veg, and avoid using soft fruit or vegetables or any with a soft centre or hole where seeds have been removed – like a pumpkin – as they won't spiralize.
– Cut produce to size and always make sure all the fruit and vegetables you want to use have a flat surface to press the handle into.
– Keep an eye on pressure and turn the foods slowly. It's all about trial and error here. Some foods will break easily if the pressure is too firm and some will give you short little curls rather than long strands if turned too quickly. The more you use it, the more you'll know what works for each food.
– If some foods leave you with pieces at the end – like potato, courgette or carrots – don't throw them away. Instead, chop them up small enough to add to the dish or set aside for a soup or stock.
– If you want to spiralize a leek, or other vegetables with layers like onions or cabbages, use the wide curl blade.
– If you want to spiralize an aubergine, or other large vegetables, ensure you cut an end off so that you have a flat surface.
– Sometimes vegetables get stuck (particularly with firm ones like parsnip or celeriac) and it can become difficult to turn the handle. Try turning the handle backwards a couple of turns, then turn it normally again.
For more information and recipes about spiralizing, read: The Spiralizer Cookbook: Delicious, fresh and healthy recipes to make the most of your spiralizer (£6.99, Robinson) by Carolyn Humphries