How to make your garden a haven for wildlife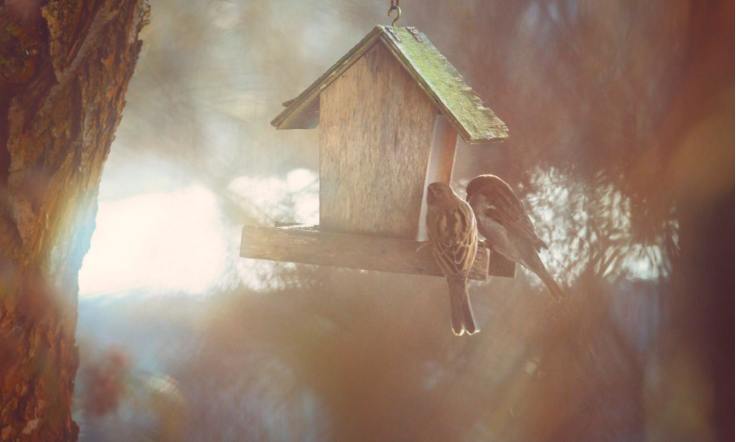 Gardens are a great way to provide food and shelter for wildlife. Bird houses, garden plants, bird feeders and garden ornaments all help to contribute to bring animals to your garden. So whether you want to attract bees to your borders, birds to your bushes, butterflies to your buddleia, or just any kind of wildlife to your window boxes, here's how…  
1) In Spring (March to May)
–  Feed the birds by keeping some evergreen amongst your plants. Blackbirds and robins are early nesters, but this can be difficult when there isn't much food to find, so help them out!
–  Plant containers can be used to grow shrubs, summer bulbs and flowers, sow seeds and vegetable crops.
–  Feed emerging hedgehogs with specialist food.
–  Put out bee boxes and once the frost has passed, plant tomatoes and cauliflower.

Wildlife watching The birds will be out in full force: the males in song, the females in nesting season and the summer birds arriving from April onwards. Hedgehogs, bats and bees will start to come out of hibernation and toads will be mating. 
2) In Summer (June to August)
– When the soil is moist, spread compost or shredded bark around trees, shrubs and roses.
– Sow vegetable crops into the soil.
– Keep the pond and bird baths topped up with stored rainwater.
– Keep your pond clear of green algae or blanket weed.
– Hoe unwanted weeds.
– Put out 'hotels' for beneficial insects.

Wildlife watching Adult woodpeckers will show their youngsters where the good food sources are in your garden, all birds will be feeding their young, butterflies and moths will be flying around everywhere and tadpoles will be turning into frogs by the pond.  
3) In Autumn (September to October)
– Leave seed heads to provide food for birds.
– Leave dry plant stems standing so insects can climb up them during winter.
– Leave food out, as some animals like hedgehogs will start to go into hibernation.
– Make a leaf mould pile, compost heap or log pile for hedgehogs to hibernate.
– Leave some autumn leaves for earthworms to draw underground. This not only helps to aerate your lawn, but provides a good food source for birds.
– Plant spring-flowering plants.
– Dig new beds before the frost arrives. Any upturned earth, the birds will pick at for invertebrates.
Wildlife watching Whilst some birds will be leaving to fly south, others will be arriving. Hedgehogs, lizards, newts, snakes, bats and lots of insects will be going into hibernation and spiders will be very common.  
4) Winter (November to February)
– Feed birds with high fat content.
– Make sure the water for birds has not frozen.
– Plant your old Christmas tree for some birds to roost.
– Put new nest boxes up, so birds can get used to them before nesting season.

Wildlife watching Male robins will be very prominent, whilst February will see frogs spawn and early bumblebees begin to take flight. 
5) All year round
– Plan your garden in vertical 'storeys.' This not only aesthetically interests humans, but the changes in height appeals to wildlife.
– Divide the garden using walls, arches and flower boarders. It creates an illusion of space and gives wildlife privacy. Most animals are prey and need cover, and do not like open space.