How To Write A Flawless Father Of The Bride Speech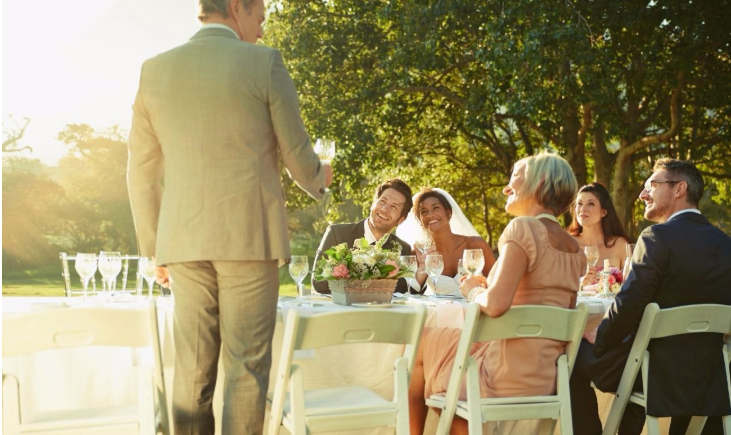 Wedding speeches can be extremely nerve-wracking, especially when you're the father of the bride. All eyes are on you to deliver a tear-jerking, loving and laughter-filled speech, but there's just one problem. You don't know what to say! Wedding toasts don't need to be scary. John Bowden's practical book reveals everything you need to know about making a speech, which is both meaningful and humorous (as after all, everybody wants to hear the father of the bride jokes!). Relax, read on and you'll have everyone clapping, laughing and wiping away the tears in no time. Cheers!
1) Tone
Reflect how important this day is for you, your family, your daughter and her guests by adding a couple of important factors to your speech.
i) Emotion
Show strong, personal feelings and recall a genuine incident you remember of bringing up your daughter and how you've enjoyed getting to know your son-in-law.
ii) Optimism
Always look on the bright side of life and be confident in telling everyone how happy you are for the couple and the future they share together.
2) Humour
Sprinklings of humour will always entertain the guests. Too much and it might be overkill – too little and it may come across bland. A few pointers to remember when dropping in jokes:
– DO use jokes and stories that have a telling point. That way if nobody laughs, you can carry on talking as if you never meant them to.
– DON'T apologise for not being funny, as this will dampen the mood straight away.
– DO keep it short and simple, so nobody loses interest.
– DON'T rush the delivery, so everyone can hear.
– DO speak slowly and clearly.
3) The Beginning & End
Try to think of the speech as a tasty meal. The opening serves as a tasty starter, which sets the appetite for the main course and the closing works as a delicious dessert that you will remember for a long time!
i) The opening:
This needs to grab your audience's attention. There are three ways to start:
– By a date. Naming memorable dates that have happened on the day of the wedding, stating that none, of course, are anything as important as this day.
– With a joke – although be aware that if you start with laughter, the audience will expect the same throughout.
– By referencing a quote about marriage or love.
ii) The closing: People tend to remember the last thing they've heard, so the last line is the most important of the entire speech (no pressure!). Again, there are three simple ways to end:
– With a sentimental line that includes drama and passion.
– With an inspirational piece of advice.
– With humour and wit – but be confident and courageous in your delivery.
4) Putting It All Together 
– Speeches should be between 5-10 minutes long.
– Leave your audience wanting more. Try to be as comfortable and confident as you possibly can. Write out your speech in full, but only memorize the beginning and end (after all, these are the most important parts of the speech).  Let the rest of the speech come naturally, using prompts when you get stuck, so you don't sound scripted.
– Make your language colourful by using similes and metaphors, and include lots of detail, so the audience can build up a picture. Remember, half the guests won't know the stories you're talking about, so you need to help them.
5) Delivery
Remember the three S's:
– Stand up to be seen
– Speak up to be heard
– Sit down to be appreciated