How to make three delicious Lebanese dips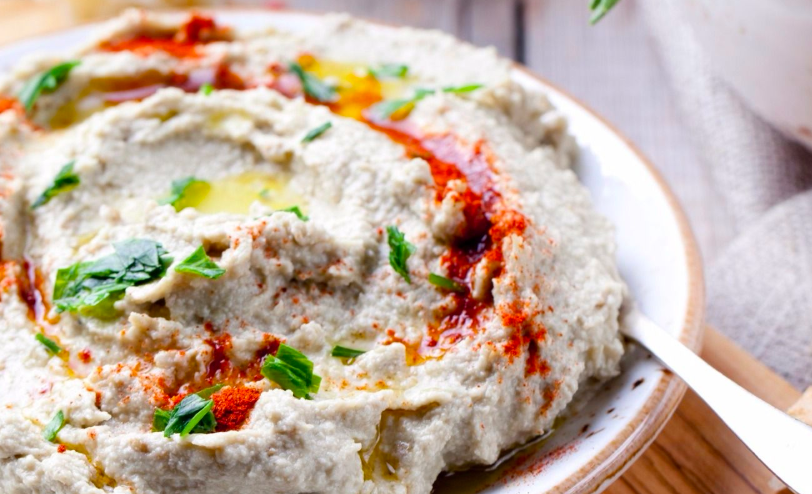 Using only fresh foods and a healthy balanced mix of vegetables, fruit, herbs, fish, poultry and occasionally meat, Lebanese food is known for being one of the healthiest in the world. From the more common foods such as bubba ghanouj, hummus and labneh, Lebanese cuisine has a wide variety of dishes that anyone can handle. But whilst following a more authentic, traditional recipe may scare you, Lebanese cooking doesn't have to be stressful. In fact, many entertain guests with a small starter by sharing a selection of mezze, also known as maza. What are you waiting for? Invite your guests round – it's time to show off those cooking skills!
Smoky Aubergine Dip 
Ingredients:
2 medium aubergines
Juice of 1 lemon
2 tbsp tahini
1/2 tsp salt
2 garlic cloves, crushed
1 tbsp water
To garnish:
Olive oil, for drizzling
Chopped fresh mint
Pomegranate seeds
A few olives, sliced radishes, chopped fresh parsley
Method:
– Rest the aubergines directly on top of the flame in your gas burner, occasionally turning them over.
– Cook for 30 minutes until the skin is burnt and crispy and the centre is soft.
– Allow the aubergines to cool and remove the skin.
– Gently rinse under a cold tap to remove any black bits.
– Mash the aubergines with a fork, adding lemon juice, and mix well.
– Add tahini, salt, garlic and water, and mix well.
– Spoon into a serving dish, drizzle with olive oil and garnish with mint and pomegranate seeds or parsley, olives and even sliced radishes.
Top tips:
– If you'd prefer it without the smoky flavour, simply cook the aubergines in the oven, instead of over a direct flame.
– When baking, prick the aubergines before putting in the oven, as they can occasionally explode.
– Place the aubergines on a baking tray and cook at 200c/gas mark 6 for 40 minutes.
Chilli and Mixed Peppers Dip

Ingredients:
3 tbsp olive oil
1 red onion, finely chopped
1 green pepper, diced
1 red pepper, diced
1 yellow pepper, diced
2 red or green chillis, deseeded and diced
3 garlic cloves, finely chopped
50g fresh parsley, chopped
1/ tsp salt
To garnish:
Lemon wedges
Method: 
– Heat olive oil in a pan and fry onion gently for a few minutes until soft.
– Add peppers, chilli and garlic, cover and fry over a low heat for 20 minutes, stirring occasionally.
– Add parsley and salt and continue to fry for 5 minutes.
– Leave to cool.
– Sprinkle with the remaining parsley, garnish with lemon wedges and serve cold.
Top tip:
– Best served cold and as an accompaniment for tasty snacks.
Tahini and Onion Dip
Ingredients:
100g tahini
50ml lemon juice (one average lemon)
About 400ml cold water
2 tbsp olive oil
200g onions, halved and thinly sliced
1/2 tsp salt
To garnish:
15g pine nuts
Chopped fresh parsley
Method:
– Mix tahini and lemon juice until it becomes thick and fluffy.
– Gradually add cold water and keep stirring until it becomes like thin cream without lumps, adding more water if necessary.
– Heat oil and fry onion for 10 minutes until soft and lightly brown.
– Add tahini sauce and salt to the onions and mix well.
– Keep stirring until it starts to boil.
– Turn down the heat and simmer for 20 minutes, stirring every so often.
– The onions should look almost mushed and blended with the thickened tahini.
– Allow to cool, and spread into a serving dish.
– Sprinkle pine nuts over the top and garnish with freshly chopped parsley.
– Serve with pitta bread and lemon on the side.
Top tip:
– Served cold, this dish can be prepared in advance.