Recipes for your spiralizer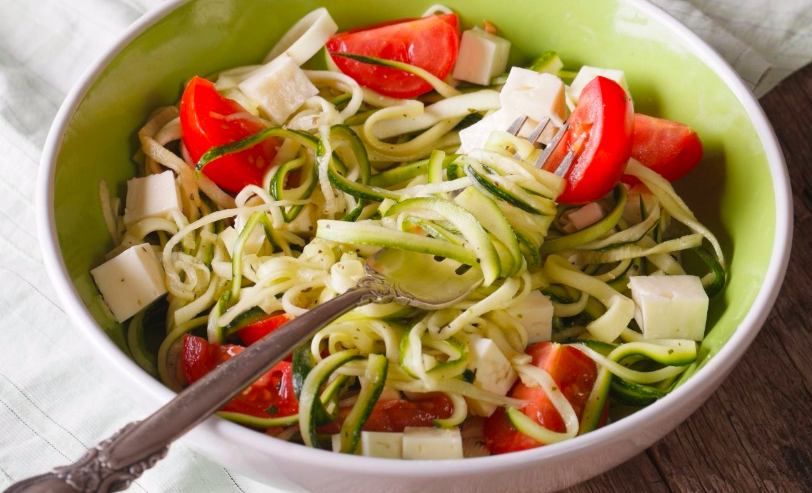 Spiralizing is the new trend when it comes to preparing food. There are lots of fruit and vegetables that can be used in a spiralizer as an alternative to pasta, rice and noodles, including spiralized squash and "courgetti" (which is essentially just spiralized courgette). There are loads of spiralizer recipes out there that you can use for breakfast, lunch or dinner, which is great news if you're on a health kick or trying to lose some pounds! If you're still unsure about cooking with a spiralizer or how it works, read on for two easy recipes, which are so simple to follow and tasty beyond belief….
Creamy Smoked Salmon Dill & Courgette Spaghetti  
Ingredients
6 large courgettes, about 1.2kg, trimmed and halved widthways
400g crème fraiche
400g can flageolet beans, rinsed and drained
1 ½ tsp anchovy essence or Tahi fish sauce
2 tbsp chopped fresh dill, plus a little extra to garnish
2-4 tsp lemon juice
2 x 120g packs smoked salmon trimmings
Freshly ground black pepper
To serve 
Parmesan cheese shavings
Method
1)  Spiralize the courgettes on the 3mm noodle blade. Place in a steamer or in a metal colander over a pan of boiling water, then cover and steam for 2 minutes. Set aside.
2)  Tip the crème fraiche onto a large pan and add the flageolet beans, anchovy essence or fish sauce, dill and 2 tsp lemon juice. Scatter in the salmon, breaking up the clumps with your fingers. Heat through until bubbling, then add some pepper and more lemon juice to taste.
3)  Add the courgette noodles and toss gently. Pile into warm bowls, sprinkle with a little chopped dill and some Parmesan shavings, and serve immediately.
Pork Escalopes with Soured Cream, Butternut Squash and Cabbage Noodles
Ingredients 
For the escalopes

350g piece of pork tenderloin, cut into 4 pieces
4-6 tbsp plain flour
Salt and freshly ground black pepper
1 large egg, beaten
75g panko breadcrumbs
3tbsp grated Parmesan cheese
Groundnut or sunflower oil, for frying

For the noodles

1 small butternut squash (about 650g), with a long neck
1 small green cabbage, outer leaves removed and base trimmed flat
2 tbsp olive oil
1 large knob of butter
120ml sour cream
To garnish 
A few caraway seeds, sprigs of fresh parsley and lemon wedges
Method
1)  Make a slit in the side of each piece of tenderloin and open the meat out flat. Place in the plastic bag or between sheets of cling film and beat with a rolling pin or meat mallet to flatten to about 5mm thick. Alternatively, split each in half completely, then flatten to form 8 smaller steaks.
2)  Mix the flour with a little salt and pepper on one plate, put the beaten egg on another and mix the panko breadcrumbs and Parmesan on a third. Dip the pork in the flour, then the egg and finally in the breadcrumb mixture to coat completely. Place on a plate and chill until you are ready to cook.
3)  Cut off the bulbed base of the squash and set aside for soup or to roast. Peel the long neck end. Spiralize on the 5mm noodle blade. Set aside. Next, spiralize the cabbage on the wide curls blade, round end towards the blade, removing the outer leaves as they peel off.
4)  Heat a little oil in a clean frying pan. Fry the escalopes for about 3 minutes on each side until crisp, golden and cooked through. Drain on kitchen paper.
5)  Meanwhile, heat the butter in a separate large wok or deep frying pan, add the cabbage and squash, and toss over a fairly high heat for 3 minutes until lightly browning at the edges and softened but still with some texture.
6)  Add the soured cream and some salt and pepper.
7)  Put the escalopes on warm plates with the noodles to one side. Sprinkle the noodles with a few caraway seeds and garnish each plate with a sprig of parsley and a lemon wedge.
For more great recipes using a spiralizer, read: The Spiralizer Cookbook: Delicious, fresh and healthy recipes to make the most of your spiralizer (£6.99, Robinson) by Carolyn Humphries