How to make alternative tinsel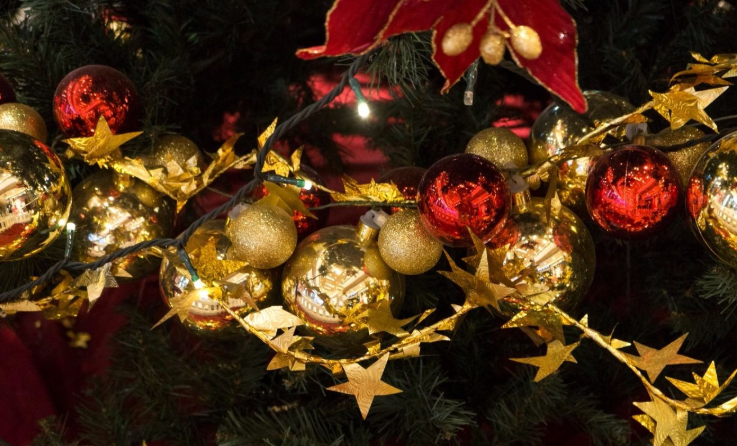 Whether it's a cushion cover, coat, curtain, apron or even jewellery you're after, there are lots of crafts you can try your hand at, but none are more fun than those with a festive theme. From homemade tinsel to a Christmas garland, Rebecca Peacock and Sam Tickner's Make & Mend is the perfect book to get stuck into this festive season. If you thought it would be hard to make Christmas decorations, think again! The book provides a wide range of fantastic items you can try out to make your Christmas that little bit more extra special, with lots of inspiring ideas, including Christmas bunting. Not only is it pretty, but it's also an unusual alternative to the traditional-looking decoration, plus it's really quick and simple to do! Christmas bunting can be made by hand, no hemming is involved, and it is a super fun project to take on with children, as you only need a blunt needle to be pushed through felt. Pinking shears also provide a decorative finish to the edges of each section.
You will need: 
3-4 pieces of felt
How to make: 
1) Choose a few colours of felt. Keeping to a limited palette of two to three colours works well, and the colours can be geared to your event (for instance, pastels for spring, or red, green and gold for Christmas).
2) Using a jam jar as a guide (or the inner and outer edge of a roll of sticky tape), cut a circular cardboard template. Place the template on your felt and draw around it with chalk or a fabric pen.
3) Cut out the circles using pinking shears. At least 20 shapes will give you a decent garland.
4) Thread a needle with embroidery thread in a complementary colour. Knot one end well, leaving at least 10mm excess thread. Take one circle and fold it in half. Thread your needle through the top of the semicircle, taking care to go through both layers of felt.
5) Using running stitch, sew in a straight line down the radius of the semicircle. When you reach the end, fold another circle in half and begin sewing through the top. Don't pull too hard, or the felt may not lie straight. The shapes should be just touching, with the thread acting as a central column. Repeat for all the other shapes.
6) When you have sewn all your shapes together, spread the shapes out so that they hang straight. Oversew a couple of stitches on the last shape and knot well to secure, leaving another 10mm excess thread. This will enable you to hang the garland from the other end.
7) Once you have made 10 – 12 garlands of different lengths, attach one end to a piece of cane. The cane can be fixed to the top of the window using brass hooks. Thread the other end of each garland to a bead or button to act as a weight.
For more great craft ideas, read: Make & Mend: A Guide to Recycling Clothes and Fabrics (£9.99, Robinson) by Rebecca Peacock and Sam Tickner