Top twenty tips for creative start-ups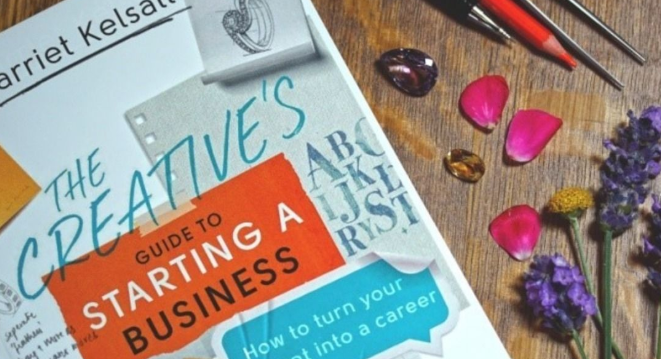 Harriet Kelsall's Top 20 Tips for Creative Start-ups 
1.  You don't have to know very much about business to start one and turn it into a success.  You don't need qualifications or social media expertise- I knew NOTHING about business and started a successful and innovative creative business, and so can you.
2.  First define what success means to you. Whether it means having lots of money, being able to run your business around your family or to become a household name, your personal vision of success is important and needs to be clear from the start. Otherwise, how will you know when you've got there?
3.  It is best not to start a business straight out of college or uni.  Whilst there are exceptions to this, making a success of a business with little experience of full-time working life is extremely rare.  Try to work for a relevant larger company to learn key skills, but ensure it's not too close to the field in which you want to start. You can easily get stuck in their ways which will make it much harder for you to innovate.
4.  If you're thinking of starting a business, make sure you can run a small version of your business in your spare time as well as working hard in your full time job.  When you start up properly you'll be working far longer hours than both jobs combined and you have to be able to cope with this amount of work to succeed.
5.  Don't sell at prices that you can't sustain.  When you are selling something as a sideline, you can afford to sell at low prices but when you have to pay bills out of those prices, they will have to go up and customers may not be willing to pay.  It's important to understand pricing even when you're at the trialling stage.
6.  Be creative and don't mimic another business model– find a real 'gap' in what you do, and ideally in how you approach the market too.  Today, there are many jewellers offering some kind of bespoke service, but we forged a completely new path and were the first on the high street.
7.  For a creative business it's important to find your 'big idea'.  Think about innovating, specialising or combining ideas that have not previously been combined.
8.  Think about your customer first and then create your business offering around what they want….not the other way around!
9.  Trust your gut instinct- don't be talked into things for sensible reasons that don't feel right. If it feels wrong, it probably is wrong.  If it feels right it probably is right, but do some market research to check.
10.  If you want to take a step within your creative business but don't have the skills, don't expect to be spoon fed those skills. If you need to focus on marketing or book-keeping, do research and ask friends with relevant skills for a little one-to-one session, perhaps in return for making them something.
11.  When you love what you do, it is easy to overdo it so look after yourself.  Within the first couple of years of your start-up, you need to be able to put in much more time than 9-5 will allow.
12.  When you can, help other people.  This is partly about "giving back" for the sake of the many people who helped you along your way and also partly about making new connections and opening your mind in new ways.  I find that it even helps to feed my own creativity.
13.  Small steps are still worth taking – they can still get you somewhere – you don't have to rush.  I helped to pioneer Fairtrade gold and improve ethics within the jewellery industry by taking on this huge issue one small step at a time along with others.  There is still a lot of work to do but we are a few big steps closer.
14.  Get nominated for business awards because you might just win them.  You can get nominated for start-up awards in your very first year of business- impressive PR building stuff.
15.  At some point, you have to take a risk to succeed and get out of your comfort zone.  You can minimise the risk, but with many things, if you don't try it you'll never know and actually, you'll learn far more from your mistakes than your successes.  So don't be too afraid, and keep thinking positively.
16.  Don't always trust the 'expert' consultants that will approach you offering their business development services, e.g. Marketing or strategy help, for a hefty fee. You can waste a lot of money and time this way as they don't know your business like you do. Good advice is not something you need to pay a 'consultant' for.
17.  I never consider that I can't do something – this concept just isn't in my mindset.  I've had to overcome lots of obstacles- I'm dyslexic and I had open heart surgery  a few of years ago-but I still imagine that I can do anything…so I know that you can do anything too.  Self doubt will only hold you back.
18.  Think around the subject and continually inject new ideas into what you do. Whilst our core business is telling people's stories in the form of bespoke jewellery, we do other supporting things, including open days and children's jewellery making parties. There are always new things to do to keep customers inspired.
19.  It is the little things that can send a busy business person over the edge- for instance if your child suddenly announces they have to bring a cake into school the next day! Whether its advice on work or home life, ask friends and business contacts for tips on juggling being a creative person with a business and a life too.
20.  Talk to people – all kinds of people – and really listen and engage with them.  Make bridges, make connections and keep smiling. Also build a big support network together – do favours for each other.  That is why events like this are so great because that is one of the things that this network can be about.
Harriet Kelsall is one of the most respected bespoke designers and business trailblazers working in the UK jewellery industry today. She is the 2016 HSBC Forward Ladies "Retail Business Woman of the year", was Everywoman's 'Retail Woman of the Year' in 2011, one of The Institute of Directors magazine's six 'women who have most changed the business world' in 2014, and is a Freeman of the Worshipful Company of Goldsmiths and of the City of London. She is the chair of the National Association of Jewellers and a non-executive director for both the Responsible Jewellery Council and the British Hallmarking Council. She is a regular keynote speaker on ethics and CSR, advised the government on jewellery skills as part of the Creative and Cultural Skills Academy and speaks nationally and internationally about responsible business. 
Harriet Kelsall founded her business in 1998 at her kitchen table and has grown it to be one of the UK's leading jewellery design companies. In this article she shares her top tips to turn your passion for creating beautiful objects into your career.
The Creative's Guide to Starting a Business is for people with a creative passion for making beautiful objects who are wondering whether they can take the next step and turn their creativity into their career.